W. Douglas Buttrey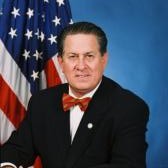 Board Member Buttrey, a Republican from Tennessee, was officially sworn in as the seventh Member of the Surface Transportation Board (Board) on May 28, 2004.  His ceremonial swearing-in at the U.S. Senate took place on July 20, 2004.  He was nominated to the Board by President George W. Bush on November 17, 2003 , for a five-year term expiring on December 31, 2008.  He became Chairman on January 5, 2006.  Board Member Buttrey departed the agency on March 13, 2009.  The Board's governing statute permits a Board Member to serve up to one year after the end of the Member's term, unless a successor is appointed.
At the time of his appointment to the Board, Board Member Buttrey was a private consultant in the security and biotech areas.  He worked for Federal Express Corporation for 22 years in various positions, including 15 years as a senior corporate lobbyist.  Before joining Federal Express, he served as Counsel to the Aviation Subcommittee of the Senate Committee on Commerce, Science, and Transportation.  Prior to that position, he was an Attorney/Advisor in the General Counsel's office at the Civil Aeronautics Board.
Board Member Buttrey holds a B.S. from Tennessee Technological University (1968), and a J.D. from University of Memphis School of Law (1971).  He is a member of the District of Columbia Bar and the Tennessee Bar.